Store seeks permanent liquor license in gang-prone area | News
ATLANTA -- Residents in an area police say is prone to gang recruitment are speaking out against a store's attempt to get a permit to sell alcohol. 
Fair Street Supermarket is in a neighborhood where Atlanta Police Sgt. Archie Ezell told 11Alive's Blayne Alexander gang members try to recruit young kids.  Ezell said in that area alone, at least three different gangs actively vie for members. Last November, Ezell showed Alexander the graffiti covering one side of the supermarket, pointing to that corner as one of the biggest gang recruitment areas in the city.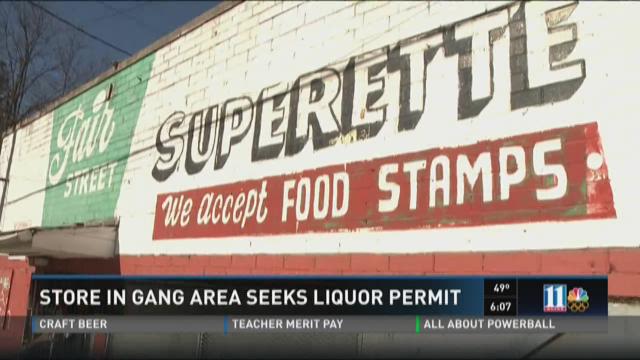 The store has been under new ownership since December. The previous owner did have an alcohol permit, but it's now up for review. The new owners have a 120-day temporary permit, and some residents would like to deny the store's request for permanent one.
A meeting is scheduled to discuss the request Wednesday night.
Many residents told Alexander that the area is in need of help, and that it's time to put something better in that location. Garnett Davis says he worries about his five-year-old attending elementary school directly across from the  Some have suggested a combination of a real grocery store that would have a liquor permit.
The Atlanta Neighborhood Planning Unit chair told 11Alive they'll likely present a Memorandum of Understanding to the new owner, granting a permit only if the owner plans to take an active role in cleaning up the community.
The store's owner and attorney told 11Alive that they plan to work with the community and "change the area."