Grandmother, children killed in SW Atlanta crash laid to rest | News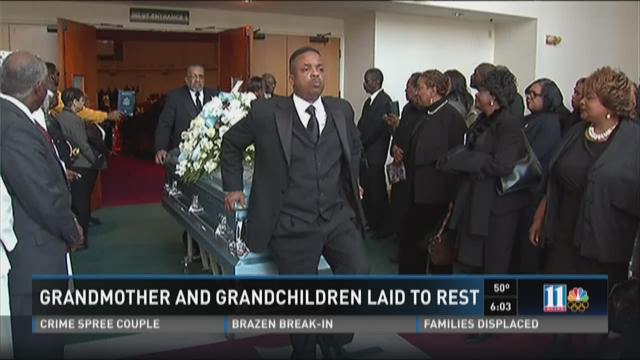 ATLANTA -- A local community said goodbye to a grandmother and her two grandchildren, Saturday.
The three victims were killed after a fleeing suspect crashed into them during a high speed police chase.
The 76-year-old grandmother, Dorothy Wright, along with young Cameron and Layla were laid to rest during a ceremony earlier in the day.
Wright's family said she was supposed to be in New Orleans the weekend of her funeral for Mardi Gras festivities.
And, sadly, the man responsible for their deaths is still on the run.
With heavy hearts, friends and family said their final goodbyes – in front of them a constant reminder of what happened.
Joi Partridge lost her mother and two children in an instant.
"It's very hard; very trying," she said.
"We're at peace. I'm safe saying we're in peace," family member Lataucha Harris said. "We know where they are. We know their fate. We know that they're resting and that we'll see them again."
On Jan. 31, a man stole a black Chevrolet Suburban from the Westin Hotel near the airport.
College Park Police tried to pull the man over but he sped away. And from there, he led police on a high-speed chase that eventually crossed into Atlanta – and into the neighborhood at the intersection of Rogers and Gordon where the three innocent victims were killed.
The suspect ran the stop sign, smashing into the car Wright was driving.
Friday, police released a sketch of a man wanted for questioning. There's also a $10,000 reward from Crime Stoppers for information on the suspect.
The family hopes the man will be caught soon.
"It's indescribable; it's shocking," Harris said. "It's so real today."
The Fulton County District Attorney is investigating the chase to see if police should have followed the suspect into the neighborhood.
In other news
PHOTOS | Mugshot gallery