Baby Harlan headed home with foster parents | News
ATLANTA -- A newborn abandoned by the front door of a southwest Atlanta home is expected to leave the hospital on Friday.  Baby Harlan, as she has been nicknamed, will live with a foster family until police and the Division of Family and Children's Services can determine what should happen next.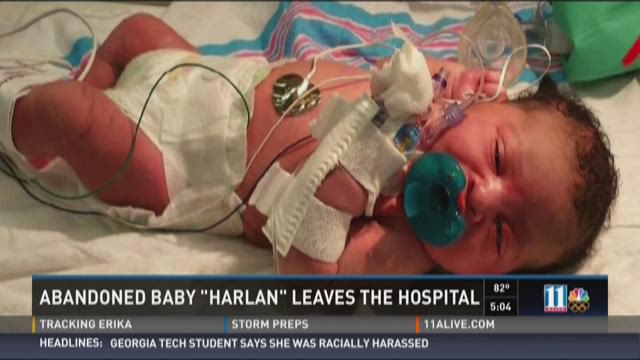 The child was only hours old when she was discovered Monday evening on the front porch of a Harlan Road home.  Police say the baby's umbilical cord was still attached to her body. She was wrapped in a Hello Kitty blanket.
Police also found a bloody pair of women's underwear along Harlan Road, not far from where the baby was left.  But on Friday, Lt. Celeste Murphy said there was nothing to indicate the child was actually born in the neighborhood.
"The child maybe was born in a car or somewhere else and was transported to that location,"  Murphy said.
Police have gone door to door, even asked to see neighbor's security video.  But so far there's nothing to tell them where the baby was born or how she got to the house on Harlan Road.
"So we're trying to push the story out again to make sure everyone is aware that we're still in search of the mother of this newborn," said Murphy.
On Friday, police released several new pictures of the baby, including one of her in an Atlanta Police department pink bib.
"You can't help but love her, she's beautiful," said Murphy.
Murphy said that baby Harlan has won over the hearts of officers nurses and the public. But along with love, Harlan needs a home.
DFCS Director Bobby Cagle said his office has received a flood of calls from people interested in adopting the child, but there's a three-year waiting list for infants.  So those calling now won't likely be considered.  
But he hopes those with open hearts, will also have an open mind. 
"We have 344 children who are ready and available for adoption in the state of Georgia," Cagle said.
They aren't babies.  They're older. The youngest is generally five unless they're part of a sibling group hoping to be adopted with their older brother or sister.  DFCS has created a website to help tell their story. It's called It's My Turn Now Georgia.
"Those children really need homes just as the child who is a newborn that's found on a door step," Cagle said.
Police can't say whether the mother who abandoned Harlan will face charges.  They first want to make sure she's alright.  They do believe she had help to abandon the baby, but aren't sure if she received medical care after giving birth.
"We don't know what her story is; we want to hear what she has to say. Just tell us your story," Murphy said.
If the parents do come forward they can also officially give up their parental rights. That would avoid the long legal process that it will otherwise take to get Harlan free for adoption.

Anyone with information about Baby Harlan's parents is encouraged to call Crime Stoppers Greater Atlanta at 404-577-TIPS. Tipsters may be eligible for a reward of up to $2,000.